Retailers around the world are dealing with unprecedented challenges amid COVID-19. Many brick & mortar stores have seen their revenue drop to zero due to lockdown measures, forcing businesses into cash preservation and survival mode. The short term ramifications for the industry may be obvious, but what about the long term? It will be a mistake to think that once the effects of this pandemic begin to taper off, everything will go back to normal, especially when the retail industry was already facing strong headwinds such as changing consumer behavior, the rising cost of real estate, and higher employee turnover.
Artificial intelligence (AI) technology might be the key factor for a strong recovery and long-term retail success. When customer experiences are turned into quantifiable measurements and market predictions, insightful business strategies can be formed using historical data. AICS Smart Retail solutions, empowered by machine learning and computer vision technology, helps retailers drive their omnichannel customer engagement strategies by quantifying brand exposure, improving pull factors, mapping out customer journeys, and improving in-store experiences.
Quantifying brand exposure and improving pull factor
In Singapore and Southeast Asia, the majority of consumer electronics such as computers and laptops are still discovered and purchased in physical stores. It is therefore still very important for brands to have a strong physical presence if they wish to develop and maintain a strong presence in the market.
However, brands rarely know the effectiveness of their retail outlets in building brand awareness and drawing customers into stores. They can only rely on rough estimations from on-the-ground staff, which are subjective and can be misleading.
Our Smart Retail solution has allowed us to confidently quantify brand exposure by capturing not only how many people pass by each of our retail outlets, but also how many of those passers-by eventually enter the stores, as well as the entrance rate of each location. Our solution also anonymizes private data and is built with privacy by design. It aggregates and analyses the general demographics like gender and age distribution of our stores' visitors. Additionally, video footage and photographs are removed right after processing so no personally identifiable information is saved in the system.
ASUS's marketing team has been able to use this data to benchmark stores against one another to identify opportunities for improvement and learn from high performing outlets. Going forward, ASUS will also use this data to test some of their previous assumptions about locations and visitor persona, and strategically plan out future retail expansions, while being able to quantify, measure, and monitor the effects of the changes they make to their tactics and strategies.
" Using computer vision and AI to map out detailed customer journey within the store, performing micro-location analytics. "
Mapping out customer journeys and improving the in-store experience
We are keenly aware that consumers are growing more and more comfortable buying goods online, and physical retail outlets will play a lesser role in enabling and facilitating transactions. Every retailer should expect its customers to price compare using their smartphones while they are inside the stores. Therefore, an effective omnichannel strategy must leverage the real strength of brick & mortar stores, which is the ability to let consumers experience the products in person.
But good customer experience is extremely difficult to measure and improve. "Data" is usually limited to anecdotal records from in-store staff, which is very limited, subjective, and sometimes even missing altogether due to the high employee turnover rate in this industry.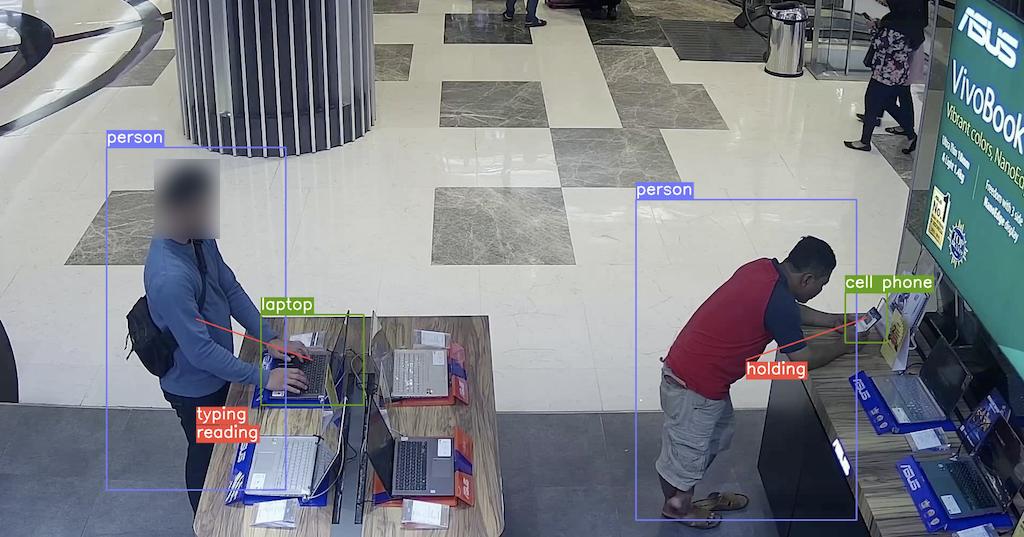 To truly extract the value of an omnichannel operation, our Smart Retail solutions focus our initial efforts to provide detailed analytics for ASUS's physical retail operations, using computer vision and AI to map out detailed customer journey within the store, performing micro-location analytics.
We are able to analyze:
How long visitors stay in the store on average (stay duration analysis/dwell time)
Where most visitors spend time within the store (region of interest/heatmap analysis)
What products are visitors most interested in (product interaction analysis)
When do visitors need support from staff (customer-staff interaction analysis)
This data will help ASUS maintain a clear pulse on consumers' shopping preferences, and systematically improve the in-store experience for all of the outlets around the world. Also, this data can help ASUS create more relevant marketing campaigns, visual merchandising, and even product development.
Taking this downtime to prepare for recovery
Although the worldwide outlook in the wake of COVID-19 is uncertain and may be bleak, retailers should utilize the downtime and take this opportunity to step up and prepare themselves for recovery and long term success, not just to pick up where they've left off. The world will change for many industries and especially retail, this is the perfect time to get a head-start with AI technology implementation.
For our work with ASUS, this initiative to quantify and systematically improve performance was already in progress. COVID-19 has not only elevated the importance of this project, but also pushed our team to experiment with other ways we may use AI and data to address challenges other retailers will face going forward, such as PPE/mask detection, safe social distancing, and contact tracing.
Contact us if you are interested in AICS Smart Retail solutions and how we can help your business. We are here to help you bounce back faster for success with AI solutions post COVID-19.