In 2020, AICS (ASUS Intelligent Cloud Services) and Chung Shan Medical University Hospital received the Taiwan National Innovation Awards for their collaboration on transforming traditional electronic medical records – a patient-centric electronic medical record based on SDM (Shared Decision Making), and an education-centric electronic medical record, both leveraging AICS's AI-enabled ICD-10 coding technology.
Today, AICS and Chung Shan Medical University have signed a Memorandum of Understanding to pioneer the development of a secure and rapid inter-institutional collaboration and data sharing program that aims to leverage the power of AI and big data to facilitate and accelerate innovations in the fields of public health, healthcare education and medical research.
Dr. Tai-Yi Huang, Corporate Vice President of ASUS and head of AICS, shared that his team has already deployed multiple AI solutions, such as ICD10 Coding Assistant and EMR Search, at 15 medical centers and regional hospitals in Taiwan. He also shared that these applications will become the foundation for medical institutions to leverage the rapidly expanding medical data to strengthen their drug safety services, develop clinical decision support systems, and even provide precision medicine services.
Dr. Min Che Tsai, Superintendent of Chung Shan Medical University Hospital, said that the introduction of AI technologies and the employment of data-centric electronic medical records could assist in championing evidence-based healthcare that can enhance medical quality, reduce unnecessary treatments. He also shared that AI-driven healthcare can improve the quality of clinical data, quality of education and research, and enable a positive feedback loop.
Dr. CJ Tseng, Deputy Superintendent of Chung Shan Medical University Hospital and former chairman of the national EMR council in the Department of Health, said that ASUS is setting a new bar with its AI-driven healthcare and medical applications. Dr. Tseng was responsible for establishing the standards for electronic medical records in Taiwan, and says the AICS ICD10 solution can automatically transform existing records into relevant disease classifications and codes which are then stored in structured databases, all without any manual intervention. Dr. Tseng also pointed out that the AICS EMR search solution provides a critical foundation for elevating the value of electronic medical records in hospitals, and shared that Chung Shan Hospital is already seeing applications in these three areas:
Education on Evidence-based medicine (EBM): EBM is a key indicator of accreditation for hospitals. Real-world data gained through AI analysis of electronic medical records enable evidence-based medicine with localization and update-to-date characteristics. This information can quickly and effectively guide interns and residents in research as well as in clinical treatments.

For example, for researching treatment options for cystitis, one can search for the top strains of the disease and the most widely used antibiotics, as ranked over the past six months; for researching cancer treatment, one can browse the top five medications used, including targets, chemicals, antibiotics, gastric drugs, allergic drugs, etc. This dramatically improves the process of information collection.
Preventive medicine practices: Cancer treatments often result in side effects such as infection and even sepsis. Using dynamic and current AI-compiled data, physicians can quickly assess which drugs are likely to cause side effects by inputting key criteria of infection such as cancer type, chemotherapy type, and white blood-cell less than 3000.
Medical quality management: Through BI and AI big data analytics, hospitals can regularly review critical medical quality indicators, such as 3-day emergency re-admission rates and early re-admission rates (within seven days after discharge). This information can be used for safety and risk management interventions to help improve and avoid hospitalizations again and again and thus to guarantee the medical quality and patient health.
AICS and Chung Shan Medical University Hospital welcome all medical institutions to reach out and learn more about how the inter-institutional collaboration and data sharing program can help digital transformation, practical AI accelerate the various smart healthcare initiatives.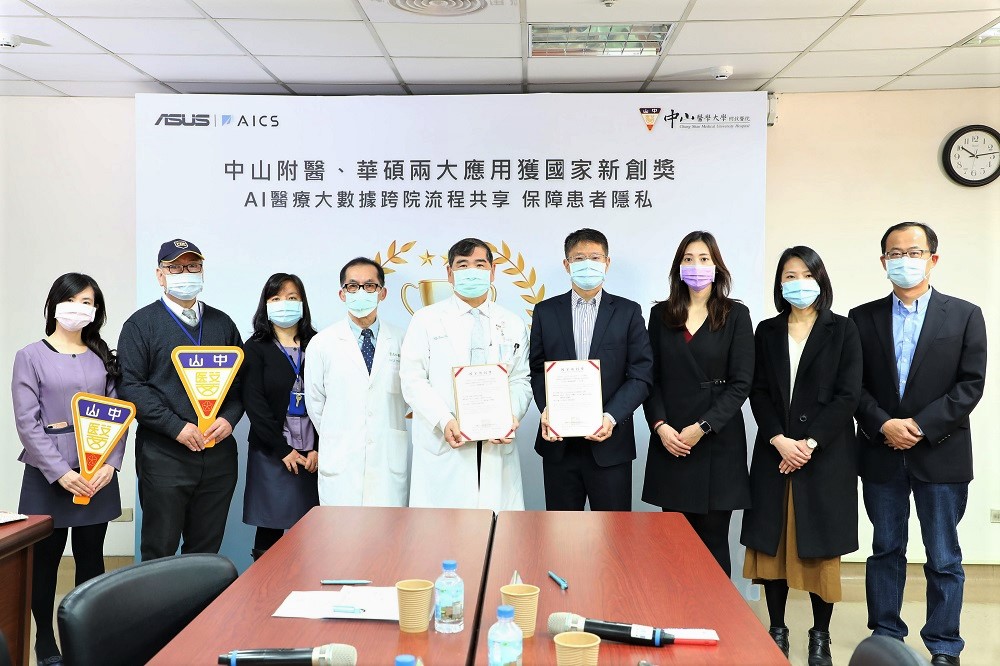 Read more: