The research team accelerating the development of innovative diagnostic treatments for lung cancer, dementia, and mental illness, in collaboration with ASUS AICS.
Last year, ASUSTeK and National Yang-Ming University kicked off the HuaYang Initiative, an industry-academia collaborative research center. Today, the two organizations are announcing three AI forward-looking research collaborations: "Predicting the prognosis of non-small cell lung cancer through machine learning", "Evaluation of pre-clinical dementia drug development by brain neuroimaging", and "Smart Brain Imaging Diagnostic Platform." ASUSTeK aims to apply its technical excellence to accelerate the research innovative diagnostics and treatments for critical illnesses such as lung cancer, dementia, and psychiatric disorders.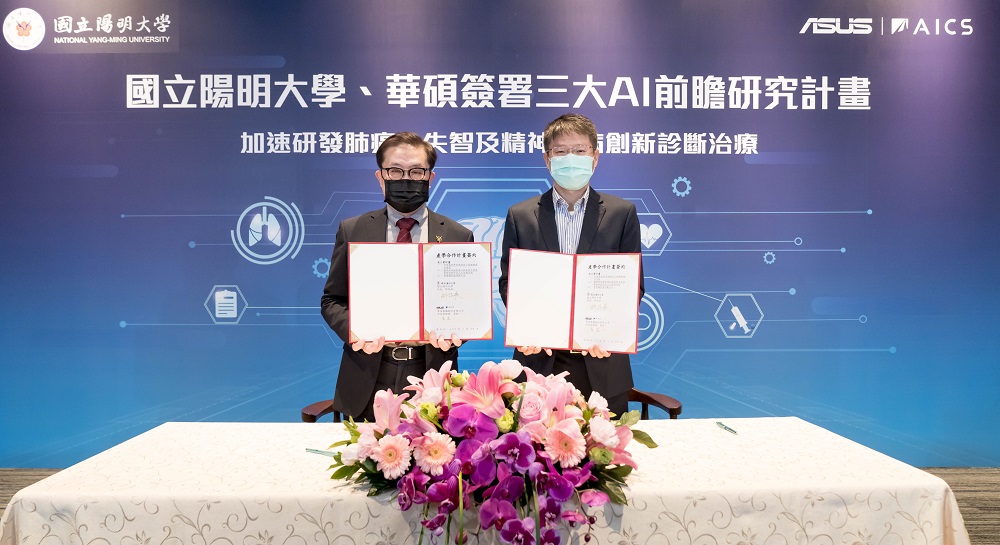 For Tai-Yi HUANG, ASUSTeK Corporate Vice President and Head of AICS (ASUS Intelligent Cloud Services), "The HuaYang Initiative promotes talent development by providing courses designed and delivered by ASUSTeK experts, validates the application of AI in the biomedical industry, cultivates the impact of industry-academia collaborations, and actively invests corporate resources to accelerate forward-looking research and development. Clinically, the deployment of an ICD-10 coding AI recommendation engine will build a structured and standardized medical database, a foundation that will drive further innovation in Taiwan's healthcare industry."
President Hsu-Sung KUO of National Yang-Ming University (NYMU) stated that "NYMU and AICS are working together on the HuaYang Initiative to create an industry benchmark for smart medical care through collaboration with domestic technology leaders; these three research projects symbolize the integration of clinical medicine and digital technology. We chose to target lung cancer, dementia and mental disorders, diseases that that most concerns our citizens and aging population, as the initial candidates to evaluate whether AI can provide clinical support that can help discover new diagnosis and treatment options for patients. Smart healthcare, which combines healthcare, information and communications, will be a strategic industry for Taiwan in the future. We would like to see more opportunities for similar collaborations so that experts in both fields can communicate with each other and create greater benefits for the people of Taiwan."
Professor Yu-Te WU, Dean of the Office of Research and Development and Professor at the Institute of Biophotonics, National Yang-Ming University, indicated that non-small cell carcinoma accounts for more than 90% of all lung cancers in Taiwan, and global research has focused on image analysis of the nodule and tissue properties to determine the aggressiveness and prognosis of tumors. The HuaYang Initiative and the Department of Chest Medicine of Taipei Veterans General Hospital have used AI to analyze large clinical datasets of Taiwanese lung cancer patients, including lung cancer images, laboratory diagnoses, medical histories, medical records, gene expressions, and so on. The HuaYang Initiative aspires to further assist physicians in predicting the disease prognosis in the early stages of treatment and to quickly grasp information on survival time, recurrence, metastasis, complications, presence of serious side effects, secondary genetic mutations, etc. to respond to or develop new treatment directions, reducing side effects, improving medical treatment and quality of life of patients.
Professor Jin-Wu TSAI of the Institute of Brain Science, National Yang-Ming University, also mentioned that dementia is caused by the synaptic damage, attenuation, and inactivation of neurons in the brain. The HuaYang Initiative aims to construct 3D microscopic image models and data platforms through AI, as an analytic tool for animal-based long-term preclinical tests. The initiative gathers neural images of animals captured by advanced two-photon scanning microscopy, then uses deep learning to analyze the morphological features of these dendritic spine images, automatically segmenting, identifying, and classifying them. The goal is to correlate images of neurodegenerative features with the disease progression of dementia and provide key indicators of synaptic degeneration to Biotechnology Academic Research Units for early detection and treatment, thus improving the quality of new drug development.
Professor Albert Chih-Chieh YANG, Director of Yang-Ming University's Digital Medical Center and a Licensed Psychiatrist, also expressed that the traditional diagnoses of psychiatric disorders depend mostly on the doctors' clinical experience and medical history assessments as there are currently no concrete biological indicators. Therefore, it is not easy for patients and families to understand and destigmatize. The HuaYang Initiative aims to create a "Smart Brain Imaging Assessment Platform" which will utilize not only thousands of MRI images of diagnosed mental illnesses and healthy adults in Taiwan from the Taipei Veterans General Hospital and National Yang-Ming University, but also channel them into the U.S. brain imaging database for mental and neurodegenerative diseases. Using AI algorithms and deep learning, abnormal representations in specific functional areas of the brain can be identified for disease classification. For example, the platform will provide diagnostic markers for bipolar disorder and schizophrenia, which can be mixed with mood, as well as neurodegenerative diseases, such as Alzheimer's disease, and Parkinson's disease, providing transparent and objective physiological indicators to assist the physician in clinical diagnosis and prognosis, and opening up international opportunities of medical AI applications.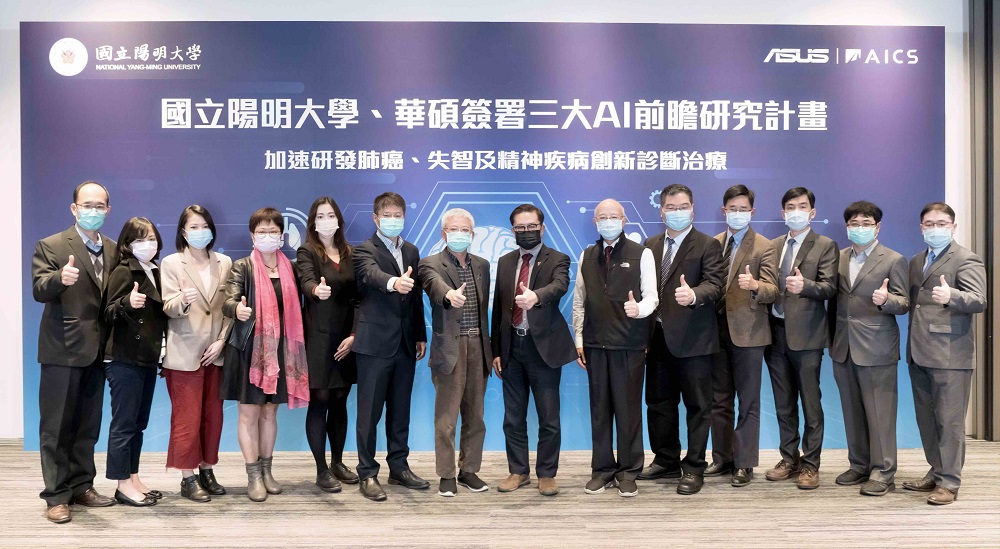 Read more: